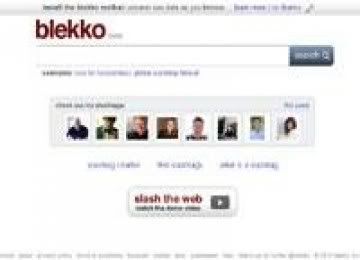 Blekko.com search engine
Search engines Blekko.com released in beta.
His presence becomes an alternative service in addition to Bing and
Google
. The project is supported with funding of 24 million U.S. dollars and began construction three years ago. "Drugs", said
Chief Executive Blekko, Rich Skrenta
, told Reuters, is to narrow the search website where people, not computers, are believed to be the best source of information for certain topics. This approach is clearly ancient in an industry where the computer algorithm developed by Google and Microsoft engineers have for years been regarded as the ideal way to find information in a sea of data online.
Blekko has invested 24 million dollars on products developed in the last three years, with prominent investors including Marc Andreessen, creator of the first web browser, and Ron Conway have invested in technology companies including Twitter, Foursquare, even Google. Blekko claims search engines are designed to eliminate spam that plural appears in search results by placing a sign slashtag or the slash in each search word. For example, / aikido, / beatles, / wow, / Twilight and / zen. Users can also make slashtag to note the topics that will be registered in Blekko, a follower slashtag already available, and view statistics for papers and data that have been crawled by Blekko. Not only that, Blekko also identifies how much data is written double or duplicate alias. Blekko allows users to modify the column on the left as needed. Even open for users to make slashtag. Only, still requires to login first.
Blekko has been tested by 8,000 people who make different slashtag 3000. No fewer than 11 percent of existing users visited Blekko back every week. Blekko CEO and founder Rich Skrenta Blekko Mike Markson did not have such lofty goals in the near future. However, they believe, when they built this site was visited one to two million visits per day it will be able to reap profit Blekko entry in a long list of search engines that attempt to match Google's business, with less brilliant track record. Cuil, a high-profile search engine launched by former Google employees in 2008, quietly closed in September last. Then Powerset, a search engine that let people ask questions in English, Microsoft acquired in 2008 as well. Greg Sterling, an Internet consultant and editor for an online blog Search Engine Land, said he did not expect that Blekko will replace Google in the near future.
However, he said, Blekko has developed creative approaches to finding that may become popular as a secondary search engines for some types of queries. Blekko launched with a special directory of websites that offer spam free search results for the seven categories of general searches, health, recipes, song lyrics, hotels, automotive, college, and personal finance. Blekko also allows users to create a personal directory of websites for specific topics, so that
search engines
only seek information from sources that are considered relevant and reliable user.
In addition to founder and CEO of Topix who also work for AOL, Rich Skrenta, other big names behind them peer Blekko Rich on Topix, Michael Markson, then Tom Annau a four-year project with Google in 10 different areas of web search and online advertising. Then there is Greg Lindahl from PathScale, which is used to build super-computer cluster. QLogic PathScale successfully sold in 2006. Blekko also put Keith Peters as chief architect. Keith joined the Netscape / AOL in 2000, and later worked on search technology in E-Commerce division and AOL music. Operations Director Chuck McManis Blekko held, which experienced four years with Google and five years at NetApp.