1.E-Mail Facebook

- An integrated system between the text message to your phone
cellular, text IM Chat, and E-Mail.
- Provides a social graph (identity, map, relationship status, and social interaction)
- Up to develop the social inbox spam filter.
- Users can request facebook automatically block messages from friends.
- There will be no CC between e-mail.
- Offers storage up a formal letter between two people, unless they chose to remove it.
- And another.
2. Google Buzz

- Able to track the location because it is integrated with Google Live GPS.
- Setting publicly or privately making it easier to block out unwanted people.
- Integration of Google Profile, Gmail, Google Picasa, and Google Voice and Talk.
- Comments can be sent to your inbox making it easy to be stored in that conversation.
- Ease of loading and displaying images in full screen.
- Connect to sites that are in use.
- Easy import from twitter, picasa, flickr, and Google reader.
- New posts or comments to share with Google's Wave.
- Recommend an interesting post.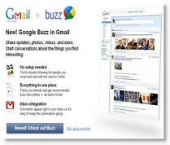 3. Yahoo! Mail Beta

- Receive and send emails with attachments much faster.
- Just received a letter or message you want thanks to the protection of anti-spam technology.
- Place an unlimited storage to store data or photographs.
- Can be easily accessed via mobile phones