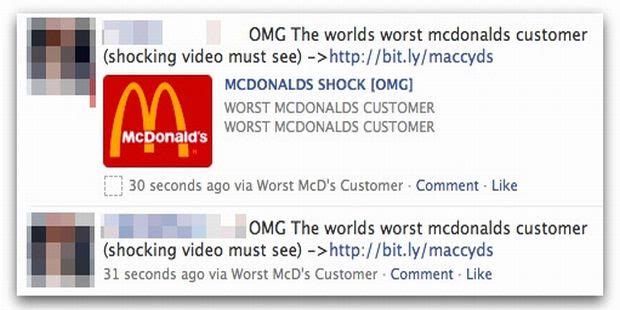 Some time ago a user up in Indonesia were surprised invitation containing a link or links located at bit.ly to watch the video excited about McDonald's. It's called a lot. There is "The Truth Behind McDonald's" and "McDonald Shocking Video". However, rather than to the video in question, up you actually deploy the same invitation to friends and pollute your inbox if you click it.

Be careful. All of that is just fun to trick people who use your Facebook account. This is a new virus in up to steal personal data of users. If the perpetrators evil, then it is not your account may be used for a variety of fraud through Facebook.

If traced, Graham Cluley from security firm Sophos Internet and computers have been warned that the spread of this virus has been going on since August 2010. According to him, spreading the virus is always changing the titles, but all were related McD. Even so, the title could have been replaced with anything interesting title. Up had been contacted to prevent the spread. However, the virus apparently can still be leaked to the users of Indonesia.

How did the perpetrator steals your Facebook data? Here's how it works. The invitation includes a link to your site with the lure of video containing information about McDonald's odd. Once the link is clicked, will display the application up with the name "Worst McD's Customer". To be able to open the video, the page you are requesting permission to access the identity, posting on the wall, access data anytime, access to contact information, and even set up a page on Facebook.

If the option is clicked allow these applications even automatically send the same invitation to all your friends. Imagine if all users are allowed to use actors. Page up you will be compromised.

So, if to an invitation by McD related titles and the like, ignore it. If in doubt, check any information that they want access. If excessive, then leave the link. Do not mortgage your desire to see a video of strange at the expense of all access to your Facebook account to other people.

So what if you are already exposed to these traps? Take it easy, there are still ways to treat it. Cluley, delete all references that point to the link, both in status and application settings. Make sure no part of you that lead up to the link.